Spring Training FAQ's
Are Spring Training practices open to the public?
---
Spring Training practices are open to the public from the time players report up until the DAY BEFORE the first spring training game. Practices are generally held from 11:00 a.m. - 2:00 p.m. and admission is free.
PLEASE NOTE: Practice schedules are subject to change without notice. Parking is free in our main Steinbrenner Field HESS parking lot.
---
What time do the gates open for games?
---
For all 2020 Spring Training games at Steinbrenner Field, all gates will open to fans with valid tickets beginning two hours prior to the scheduled first pitch. Gates are located in the main plaza in front of the stadium (home plate entrance) and by right field. The right field entrance may be accessed via a ramp from the main plaza as well as via the Dale Mabry Highway pedestrian overpass that connects to the Raymond James Stadium parking lots, which will open three hours prior to the scheduled game start time. For those who would like to utilize a wheelchair-accessible entrance or elevator, entry to the stadium can be found by the home plate entrance to the left of the Steinbrenner Field lobby.
Thanks to a special partnership with Mastercard®, fans who prefer to arrive as early as possible may enter Steinbrenner Field beginning 2 hours and 20 minutes prior to the first pitch by showing their valid tickets and a Mastercard®.
Throughout the spring, fans attending home spring training Yankees games are strongly encouraged to arrive early and budget an appropriate amount of time for MLB-mandated metal detection screening upon entry.
---
Where can I purchase tickets?
---
Tickets can be purchased at Steinbrenner Field's box office, online through Ticketmaster.com or via the phone by contacting (813) 879-2244
---
When is the box office open?
---
Game Days
Mon-Sun: 9:00am until a half hour after the end of the game
Non Game Days:
Mon-Fri: 9:00am to 5:00pm
Sat-Sun: 10:00am-3:00pm

(Note that Sunday Non-Game day opening does not start until Feb 18 when players are in camp)
---
What are the Legends Room Team Store hours?
---
Game Day:
Monday-Friday: 10:00 a.m. - end of game
Sunday-Saturday: 9:00 a.m. - end of game
Non-Game Days:
Monday-Friday: 10:00 a.m. - 6:00 p.m.
Saturday-Sunday: 10:00 a.m. - 3:00 p.m.
PLEASE NOTE: On game days the entrance to the Team Store from the outside plaza will not be open or accessible. The store becomes a ticketed space and fans will be directed to access the store from inside the stadium gates.
---
What is the rain out policy?
---
If a game is cancelled due to rain, only paid tickets can be refunded at the point of purchase.
If a ticket is purchased at the stadium box office, you can return your tickets for a refund on a non-game day, Monday-Friday, 9:00 a.m. - 5:00 p.m.
Season Ticket Holders will receive a credit to their account.
All TicketMaster tickets must be returned through TicketMaster.
---
What are the parking fees?
---
Yankees Spring Training game day parking is $10 per car and $20 per Bus or RV.
Reserved parking requires a pass.
PLEASE NOTE: The main parking lot will not be available for temporary team-store parking on DAY game-days. For NIGHT game-days, temporary team-store parking will be closed after 12:00 p.m.
---
Is there additional parking outside of Steinbrenner Fields main lot?
---
Yes. The Raymond James Stadium parking lots are available for game days.
Overflow Disabled Parking is $10 per vehicle.
The general public can use lots 1, 2, 3, and 4 with a $10 per vehicle fee.
Bus and RV parking is $20 per vehicle.
---
Is outside food and drink allowed?
---
No outside food or drink is permitted in the stadium.
---
Can I bring in my pet?
---
Only service animals are permitted inside the stadium.
---
Can I bring my camera and take videos?
---
Single-frame flash photography is permitted as are extended-length zoom lenses. Selfie sticks, mono/tripods and other professional camera equipment, video cameras and any other equipment designed for the sole purpose of video and/or audio recording are not permitted. Camera bags are not permitted.
---
Are signs allowed?
---
Signs smaller than 11"X17" are permitted.
---
Do I get anything for my first visit?
---
Yes! There are first game certificates at the guest services booth on the concourse behind section 211.
---
Is smoking allowed?
---
NEW THIS YEAR - GMS Field is entirely tobacco free. No smoking, vaping or other tobacco products are admitted to GMS Field. Thank you in advance for your cooperation.
---
Can I put a message on the scoreboard?
---
If you are looking to put a birthday, anniversary or other special event message on our scoreboard, please visit here. Each message request is a $50 or $75 donation, depending on the game. Payments will be made to the Yankees Tampa Foundation. PLEASE NOTE: Messages must be recieved 48 hours prior to the event date request. The New York Yankees reserve the right to edit/deny messages for content. Messages will not appear unless all information and payment is provided. Messages are first come, first serve. There is an eight message maximum per game. Message are displayed in the middle of the fifth inning. Confirmation of receipt is sent by phone or email.
---
What can I see at Steinbrenner Field if the stadium is closed?
---
Steinbrenner Field has a monument park, 9/11 memorial and statue of George M. Steinbrenner, AKA "The Boss." The stadium is not open to the public on non-game days and does not offer tours.
---
Where can I go for first aid needs?
---
The first aid location is behind section 112. If there is an emergency, please notify a staff member immediately who will contact the Tampa Fire staff on site.
---
Are there ATMs?
---
There are three Fifth Third Bank ATMs located on the concourse level. Two are behind section 213 and one is located inside the Team Store at the right field entrance.
---
Is there a list of items that cannot be brought into the stadium?
---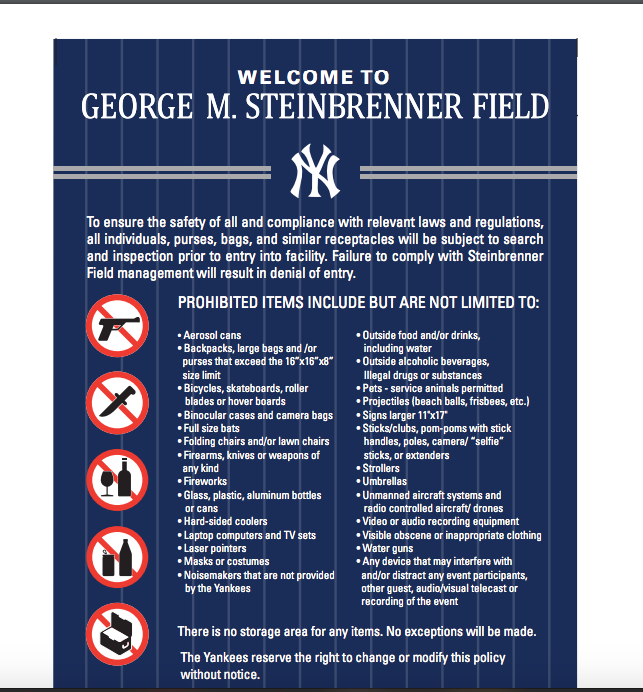 ---
Can I view the stadium seating map?
---
---
When do the parking lots open?
---
For a 1:05 PM game, parking lots at Raymond James Stadium open at 9:00 AM. For a 1:05 PM game, the GMS Field parking lot opens at 10:00 AM. For a 6:35 PM game, parking lots at Raymond James Stadium open at 2:30 PM. For a 6:35 PM game, the GMS Field parking lot opens at 3:30 AM.
---
Is there a promotional items schedule?
---
​
​​
---
---